Abyssal whip



Quest Item

No

Tradeable?

Yes

Equipable?

Yes

Stacks?

No

High Alch

60,000 coins

Low Alch

40,000 coins

Store Price

30,000 coins

Examine

A weapon from the Abyss.

Weight

1 kg
The
abyssal whip
is the second-most powerful one-handed
melee
weapon which requires 70
Attack
to equip. It should be noted that the
Dragon battleaxe
has a higher strength bonus, despite this however, the whip is capable of attacking at the same speed as that of
daggers
and
scimitars
at 2.4 seconds per hit, which make it overall the better weapon. It may only be obtained as a drop from
Abyssal demon
, monsters which require 85
Slayer
to harm, or by trading with another player. Its bonuses are +82 slash bonus and +82 strength. It has 3 attack styles: flick, slash, and deflect. The abyssal whip posseses a unique
special attack
that consumes 50% of the special attack bar and will result in either a maximum hit or a miss.
Many players make use of the whip's fast attack speed, high offensive bonuses, and moderate cost to train Attack and Defence effectively. Because the whip lacks an aggressive attack style, it is not possible to train Strength using the whip unless fighting in the controlled mode. However, this will equally distribute experience among Attack, Strength, and Defence, decreasing the speed in which each individual skill is levelled. It's usually replaced with the dragon scimitar by players who wish to train Strength.
The Abyssal Whip's speed:

Special Attack
Edit
Name: Energy Drain Special Attack Energy: 50%
This attack is more accurate, and if it's successful, 25% of your opponent's energy will be transferred to your character. However, this attack will not work on NPCs or monsters since these characters do not have run energy.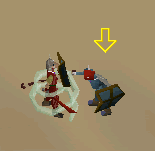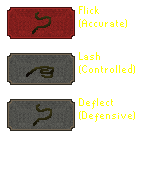 Did you know?
Edit
For a short time in the year 2006 the abyssal whip had a different attack animation. This animation was very controversial and many players did not like it, so Jagex reverted back to the old one. This animation so far will be in 2006Scape as it is in the Pk Video released on the 2006Scape Youtube page. There may be a vote in the future to change this.
Stab

Slash

Crush

Magic

Ranged

0

+82

0

0

0

Stab

Slash

Crush

Magic

Ranged

0

0

0

0

0

Other Bonuses

Strength

+82

Prayer

0