First of all, we'd like to wish everyone a Happy New Year and all the best for the upcoming years! The month of January is definitely going to be a big one for RS2006. This month we plan on finishing all skills completely, finding and fixing as many bugs as we can, and preparing ourselves for pre-alpha.
As many of you know, Mod Patrick has been working very hard to finish Tutorial Island as soon as he most humanly can. From what I've tested, it's near perfect so definitely expect to see Tutorial Island in pre-alpha and on!
On the website development side, Mod Josh is going to be working on (and hopefully releasing) the automatic donator system so that when you donate towards RS2006 you automatically get your 'Donator' status, a message system that will allow the administrators of RS2006 to communicate with the players, and lastly an offence system (blackmarking) to give out warnings to rule breakers. Below you can see a preview of what the offence system will look like: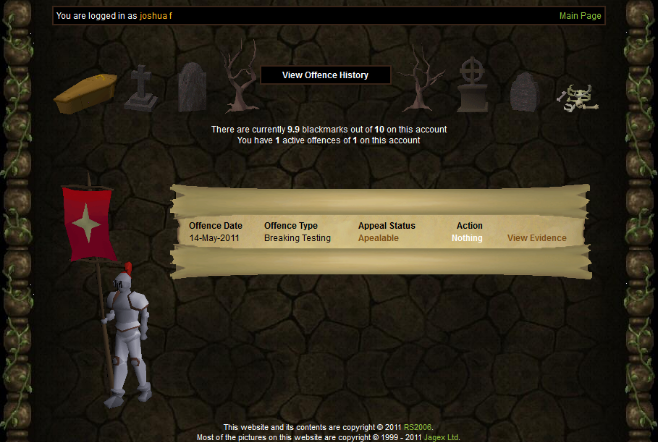 I myself will be incharge of the bug fixes and adding on the content we may have missed in the past. I also plan on dishing out many more pictures and videos this month to really show you what we've been up to (including Tutorial Island).
We've also started talking about pre-alpha and how we should organize it. Obviously, pre-alpha is for donators only and I've decided that instead of making pre-alpha 2 weeks long, we're going to make it 1 month long. 2 weeks is too short of a time to have the players test RS2006 and find as many bugs as they can. It's also not enough time for us developers to fix all of the bugs that might be present (especially since we're getting very busy with school).
Mod Vault
Head of RS2006
Ad blocker interference detected!
Wikia is a free-to-use site that makes money from advertising. We have a modified experience for viewers using ad blockers

Wikia is not accessible if you've made further modifications. Remove the custom ad blocker rule(s) and the page will load as expected.