Dragon Halberd



Quest Item

No

Tradeable?

Yes

Equipable?

Yes

Stacks?

No

High Alch

150,000 coins

Low Alch

100,000 coins

Store Price

325,000 coins

Examine

A dragon halberd.

Weight

3 kg
The dragon halberd requires 60 attack and the completion of the quest Regicide to wield it is both accurate and the most powerful halberd in 2006scape. You can purchase this weapon from the Quatermaster in the Tyras camp or from another player.
The halberd has a special attack called 'sweep'.
Special Attack
Edit
Name: Sweep Special Attack Energy: 33%
An incredibly powerful slashing attack. On large-sized monsters, you can hit twice for added damage.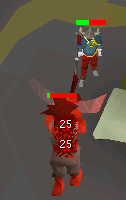 Price watch
Edit
Ad blocker interference detected!
Wikia is a free-to-use site that makes money from advertising. We have a modified experience for viewers using ad blockers

Wikia is not accessible if you've made further modifications. Remove the custom ad blocker rule(s) and the page will load as expected.