Dragon axe



Quest Item

No

Tradeable?

Yes

Equipable?

Yes

Stacks?

No

High Alch

33,000 coins

Low Alch

22,000 coins

Examine

A very powerful axe.

Weight

1 kg
The
Dragon Axe
is an
axe
made of
dragon
metal and is used in the
Woodcutting
skill
. It is dropped by each of the
Dagannoth Kings
found in
Waterbirth Island Dungeon
. The axe has decent combat stats and comes with a
special attack
, "Clobber", which reduces the oppenent's
magic
and
defence
stats equal to the amount of damage dealt.
Because it has the same cutting speed as a Rune axe, players rarely use it, seeing it as a more expensive Rune axe with a special attack . However, it can be used to show off a status of wealth, and the special attack can be somewhat useful against NPCs and players using magic .
Special Attack
Edit
Name: Clobber Special Attack Energy: 100%
This attack will lower your enemy's magic and Defence stats in amounts equal to the damage dealt when you hit them.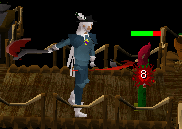 Stab

Slash

Crush

Magic

Ranged

-2

+38

+32

0

0

Stab

Slash

Crush

Magic

Ranged

0

+1

0

0

0

Other Bonuses

Strength

+42

Prayer

0
Price watch
Edit
Ad blocker interference detected!
Wikia is a free-to-use site that makes money from advertising. We have a modified experience for viewers using ad blockers

Wikia is not accessible if you've made further modifications. Remove the custom ad blocker rule(s) and the page will load as expected.