Dragon longsword



Quest Item

No

Tradeable?

Yes

Equipable?

Yes

Stacks?

No

High Alch

60,000 coins

Low Alch

40,000 coins

Store Price

100,000 coins

Examine

A very powerful sword.

Weight

2 kg
The
Dragon longsword
is the strongest
longsword
available, and can only be wielded by players who have at least 60
Attack
and who have completed the
Lost city
quest. The dragon longsword has a
special attack
, 
Cleave
, which raises the player's Attack and
Strength
for one hit, which uses up 25% of the special attack bar, allowing it to be performed up to four times consecutively.
As with all Dragon weapons, players cannot make this item using the Smithing skill. However, it can be purchased in the Zanaris marketplace from Jukat for 100,000 coins.
It is a favourite for medium levels buying their first dragon weapon as it has a low cost but can still inflict good damage.
Special Attack
Edit
Name: Cleave
Special Attack Energy: 25%
This is just an extra-powerful and quick attack on your opponent.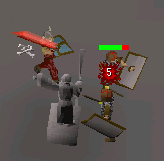 Stab

Slash

Crush

Magic

Ranged

+58

+69

0

0

0

Stab

Slash

Crush

Magic

Ranged

0

+3

+2

0

0

Other Bonuses

Strength

+71

Prayer

0
Price watch
Edit
Ad blocker interference detected!
Wikia is a free-to-use site that makes money from advertising. We have a modified experience for viewers using ad blockers

Wikia is not accessible if you've made further modifications. Remove the custom ad blocker rule(s) and the page will load as expected.