Hemenster



Release Date

Unknown

Kingdom?

# of banks?

1

Teleportations

None
Hemenster is a quiet
fishing
town. It has a small
chicken
population outside of the fishing area that can be killed for
feathers
, as few other players kill them. There is also a Windmill,
anvil
, and grain patch nearby.
The main attractions of Hemenster are the two guilds nearby: the Fishing Guild and the Ranging Guild. The Temple of Ikov and the city of Ardougne is just south of the Ranging Guild, and a dungeon filled with goblins can be accessed just south. There is also a Master Farmer near the Windmill and Farming shop, who may be pickpocketed for seeds. Near Hemenster is also one of the only 4 Allotment patches in the game (near Ardougne).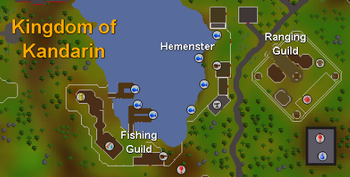 Ad blocker interference detected!
Wikia is a free-to-use site that makes money from advertising. We have a modified experience for viewers using ad blockers

Wikia is not accessible if you've made further modifications. Remove the custom ad blocker rule(s) and the page will load as expected.