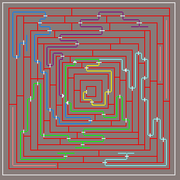 The Maze
Random Event
is yet to be added to the game,
You find youself at this Random Event when the Mysterious old man teleports you there randomly. You are required to make your way through a spirally maze, through doors and reach the centre to get back to the mainland.
You have a percentage bar that tells you how much of a reward is still remaining in the shrine at the centre, so the quicker you complete the maze the bigger or a reward you will likely get.
Ad blocker interference detected!
Wikia is a free-to-use site that makes money from advertising. We have a modified experience for viewers using ad blockers

Wikia is not accessible if you've made further modifications. Remove the custom ad blocker rule(s) and the page will load as expected.