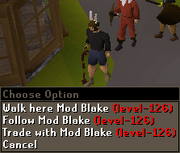 Mod Blake is primarily a core server developer and helps work with the servers stability, and he improves the overall performance of the server and quality of gameplay. Interestingly, he is the creator of the base source used for 2006Scape (RuneSource) so he is regarded a highly valuable member of the staff team.
Although Mod Blake does not post on the forums very often, he is known to be active in the 2006Scape IRC. He is more commonly know around the web as blakeman8192. Mod Blake was officially introduced into the 2006Scape staff team on the 28th Febuary 2012.

Ad blocker interference detected!
Wikia is a free-to-use site that makes money from advertising. We have a modified experience for viewers using ad blockers

Wikia is not accessible if you've made further modifications. Remove the custom ad blocker rule(s) and the page will load as expected.