Romeo and Juliet


Release Date Projectrs06
None
Quest Series
None
Difficulty
Novice
Length
Short
Walkthrough
Edit
Start Point:
Juliet in western Varrock
Requirements:
None
Items Required:
3 Cadava berries
Enemies to defeat:
None
Find Juliet who is in western Varrock, in her house. She tells you she is in love with Romeo and gives you a letter to give to him.
Go give the letter to Romeo who can be found near the fountain in Varrock Square. When you talk to him he seems very upset, even more so when you give him the letter.
He explains that Juliet's father doesn't want them to marry, and that he will kill Romeo if he is seen. Romeo hints that Father Lawrence might be able to help with their problem.
Father Lawrence and the potionEdit
Father Lawrence is located in the church in northeast Varrock. Talk to him and he will explain that you have to make a potion with help from the Apothecary who can be found south of the clothes shop in the square. This potion is to make Juliet appear dead.
Go seek the Apothecary and ask about the potion. He tells you that you will need somes Cadava berries. These can be found in a spawning spot just outside of Varrock's walls near the stone circle. Pick 3 and take them back to the Apothecary and he will create the potion.
Fake her deathEdit
Head to Juliet and give her the potion. She will fall into a death-like sleep, and Phillipa will begin to weep in sadness to attract the attention of the father.
Go back to Romeo and he will ask you to take him to Juliet's resting place. Talk to him to complete the quest.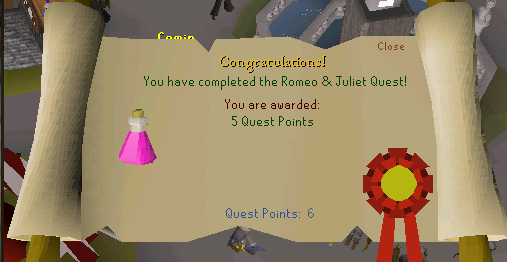 Ad blocker interference detected!
Wikia is a free-to-use site that makes money from advertising. We have a modified experience for viewers using ad blockers

Wikia is not accessible if you've made further modifications. Remove the custom ad blocker rule(s) and the page will load as expected.