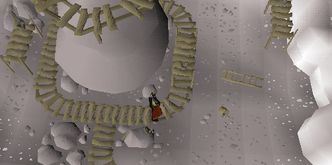 The Rune Essence Mine is the only place that players can mine in order to obtain rune essence (requires a mining level of 1) and pure essence (requires level 30 mining or more).
The rate at which you obtain rune essence or pure essence is around 1 essence every 3 seconds.
Accessing the mine
Edit
In order to access the mine, you must complete the Rune Mysteries quest. After completing the quest talk to one of the following NPCs to access the mine:
Ad blocker interference detected!
Wikia is a free-to-use site that makes money from advertising. We have a modified experience for viewers using ad blockers

Wikia is not accessible if you've made further modifications. Remove the custom ad blocker rule(s) and the page will load as expected.