Shilo Village
is a distant village far south of Karamja. Well protected from the jungle with fence and dense wild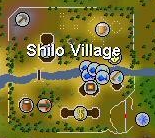 growing nature all around.
To enter this village you must have completed Shilo Village quest, as a reward from that quest you also gain access to Shilo Village cart system (a shortcut to Shilo Village from Brimhaven).
Activities
The Gem mining (only rocks in game are in Shilo Village)
Best Slayer master Duradel, combat 100 needed and 50 slayer
Good fishing area, fly fishing with bank nearby
A general store with usefull Quest items

The furnace is probally the closest to a bank in whole Runescape, but other furnaces gets higher priority since this one costs to use.
Ad blocker interference detected!
Wikia is a free-to-use site that makes money from advertising. We have a modified experience for viewers using ad blockers

Wikia is not accessible if you've made further modifications. Remove the custom ad blocker rule(s) and the page will load as expected.