Verac the Defiled



Combat Level

115

Hitpoints

100

Experience for killing

400 combat exp (+133 Hp exp)

Slayer Level

Not assigned

Slayer XP

Not assigned

Aggressive?

Yes.

Poisonous?

No.

Immune to poison?

No.

Attack Style

Melee.

Max_Hit

24 (15 if using Melee protection prayer)

Weakness

Magic.

Always Drops

Nothing

Examine Text

A vengful spirit corrupted by dark magic.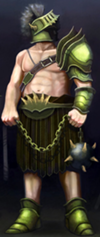 Verac the Defiled is youngest of the seven Barrows brothers. He uses melee and has a chance to ignore the protect from melee Prayer. High Defence and binding spells are only reliable sources of protecting when fighting Verac. He is found at the Barrows activity.
Verac is known for his armor set. With the whole set worn player has a chance to ignore prayers. This set is used both for PvP and hunting bosses like the Kalphite Queen, who use protection prayers.
Verac's armor also gives prayer bonus which makes it even more popular
Verac has a combat level of 115, and it is highly recommended to use Magic to defeat him quickly, as he may hit high damage on the player (aprox 24 damage/15 with prayers and luck).
Ad blocker interference detected!
Wikia is a free-to-use site that makes money from advertising. We have a modified experience for viewers using ad blockers

Wikia is not accessible if you've made further modifications. Remove the custom ad blocker rule(s) and the page will load as expected.