Zanaris



Release Date

27 February 2002

Also known as

Fairy City, Lost City

Kingdom?

None

# of banks?

1

Teleportations

Fairy Rings
Zanaris
, is the city of the fairies. Access to Zanaris is granted after the
Lost City
quest has been completed. If you want to go to Zanaris again, just bring your
Dramen Staff
with you.
You can access Zanaris by wielding a Dramen Staff and entering the small hut in Lumbridge Swamps to the east of the Lumbridge Swamp Dungeon entrance. You can also gain access to The Abyss then to the Cosmic Altar.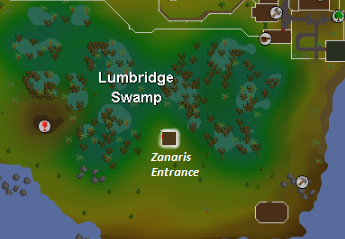 The following quests are related to Zanaris:
Notable features
Edit
There are certain random events that can only occur while the player is in the Zanaris area.
Players will temporarily turn into chickens or pigs.
A frog will appear and have a small conversation with the player.
A zanaris choir will appear and comment on whatever the player is doing
The Player will dance and they say, "All of a sudden I have an overwhelming urge to dance!"
It is possible these events are caused by the strong magic in the air due to Zanaris being the home of fairies, talking animals, Otherworldly beings, and other mystical creatures.
There is a bank in Zanaris, just north of the general store.
General Store
Edit
There is a general store in Zanaris, located near the bank. It is run by the fairy shopkeeper. It sells the normal stock of a general store.
Market area
Edit
The market area lies to the east of Zanaris and costs 1 cut diamond to get in. Here Jukat sells dragon daggers for 30,000 coins, and dragon longswords for 100,000 coins.
The ruby ring trader Irksol has up to 10 ruby rings in stock, and is located near the gem icon to the north.
Lunderwin will pay 100 coins for each un-noted cabbage.Sacks of cabbages cannot be brought into the market place.
There are two yew tree for Woodcutting.
Chaeldar is the 2nd hardest Slayer master, and requires a minimum combat level of 70 to take tasks from.
Evil Chicken's Lair 
Edit
By using a raw chicken with the shrine of the evil chicken near the entrance from the Lumbridge Swamp, you gain access to the Evil Chicken's Lair with 4 black dragons and a baby black dragon. Mining rocks are also available.
Ad blocker interference detected!
Wikia is a free-to-use site that makes money from advertising. We have a modified experience for viewers using ad blockers

Wikia is not accessible if you've made further modifications. Remove the custom ad blocker rule(s) and the page will load as expected.